A 'Suitcase Story' has been a term used in theatre and writing to highlight the stories of refugees.  With the basic concept being that what is in a suitcase of a refugee/emigrant tells their journey, tells the story of the owner, tells others what is most precious to them.
In a community as diverse as ours here in Flatbush, unless you are tangata whenua, we (or our ancestors) have all probably come here on a boat or plane at some point!
Instead of the usual staff profile, the Dream Team decided to share our stories through images – five objects that best represent each of us and our journey in life, what is important to each of us, what we value, what creates our identity.
Our idea was that by seeing the objects we hold most dear and the stories attached to them, we give our community a deeper look inside ourselves and who we are.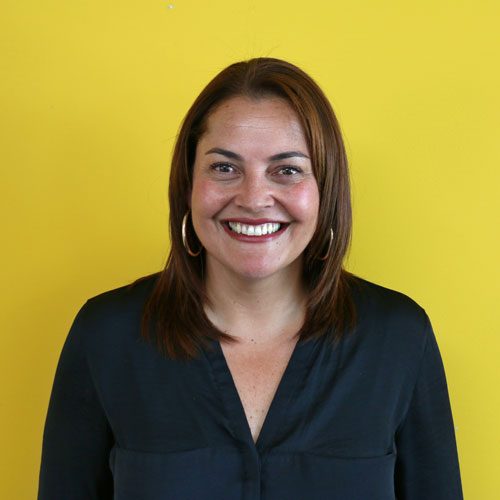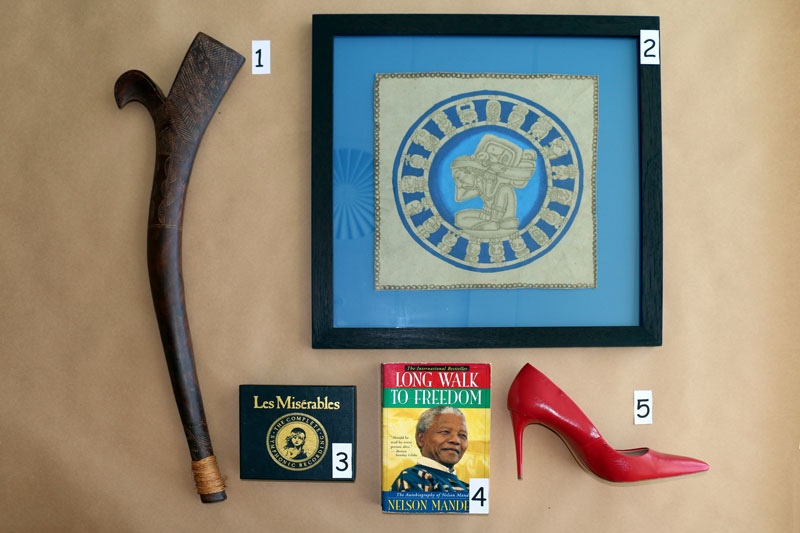 Mel Bland
Principal/Leader of Learning
"For Fiji, ever Fiji, may our voices ring with pride."
"Travelling. It leaves you speechless, then turns you into a storyteller."
"Spontaneous musical numbers ahead. Be prepared to know all the lyrics and choreography."
"Education is the most powerful weapon which you can use to change the world."
~ Nelson Mandela
"Life is short. Buy the shoes."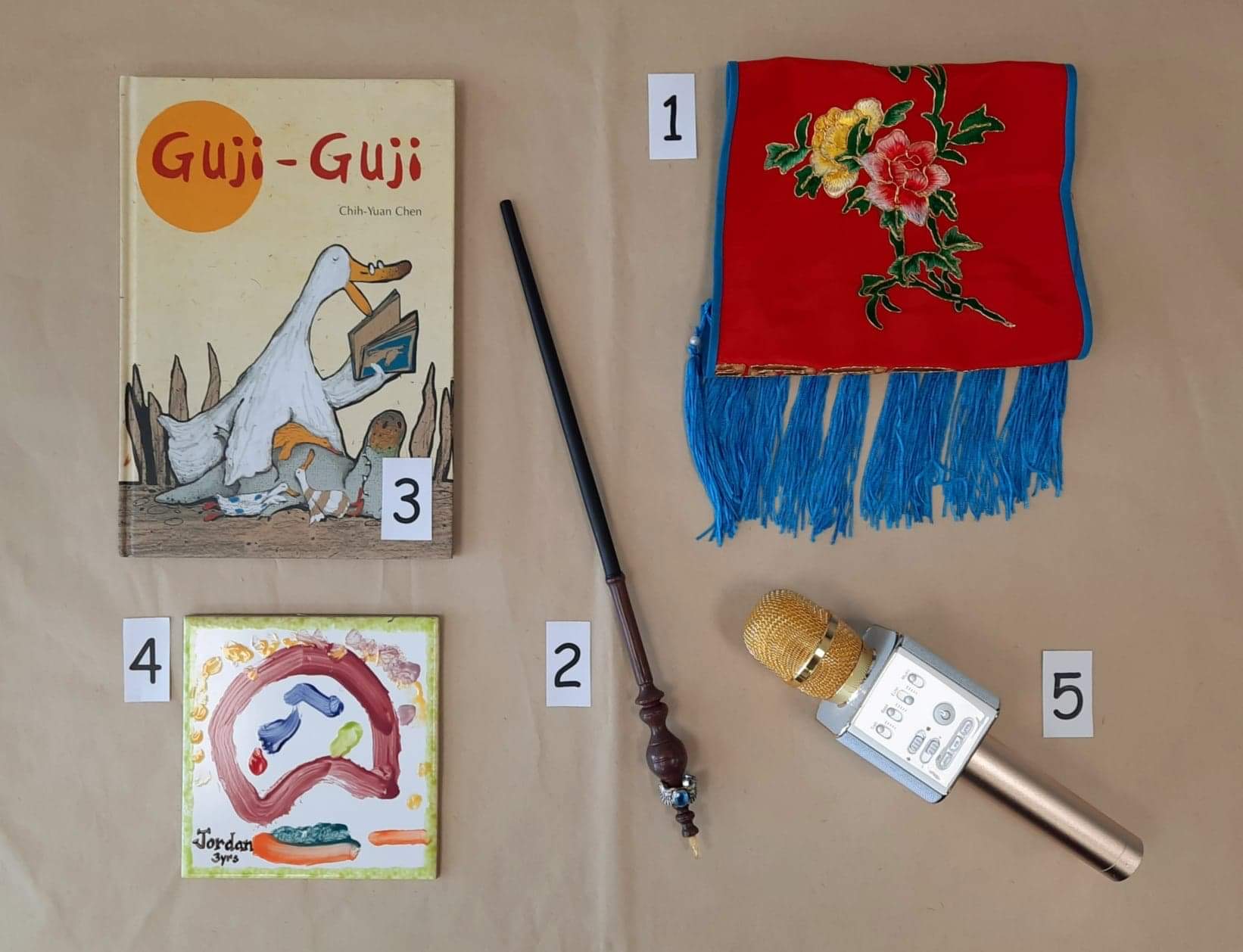 Steph Lin
Deputy Principal/Assistant Leader of Learning
From Formosa to Aotearoa, a dancer dances.

In Raven blue- wit, learning and wisdom.

No matter how different they are, this kaiako loves all her students the same.....

......including her own Mr Teenager.

Singing a Te Nikau song.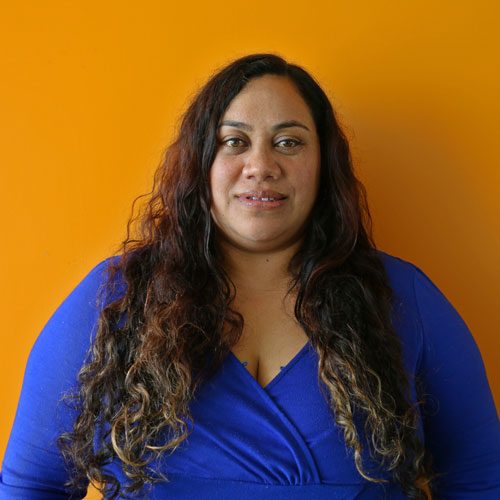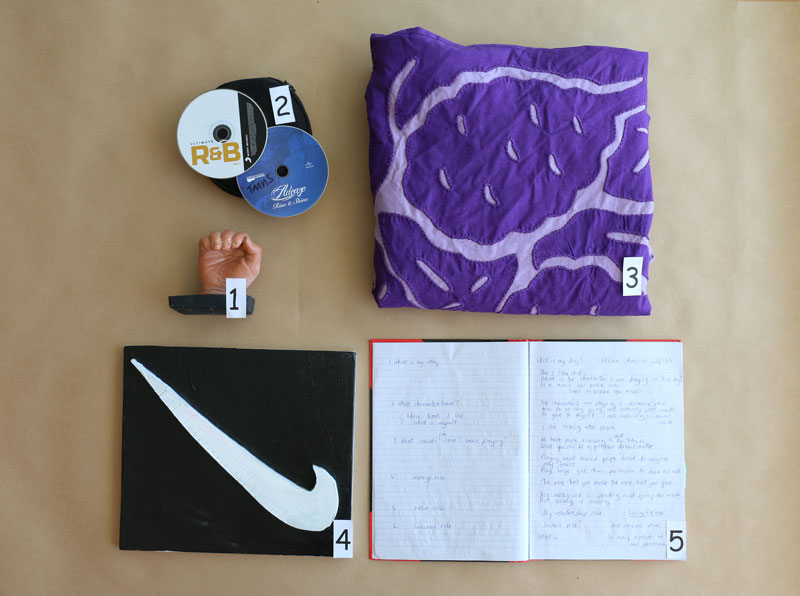 Beverly Aerenga
Deputy Principal/Assistant Leader of Learning
Son's molded hand – Mum is my favourite title. I am blessed with two beautiful boys. One that I pushed out and one that I pulled in (adopted).
CD Collection – An 80's/90's baby who cannot survive without music. Grateful to be the daughter of a musician.
Tivaevae – I am a proud Kiwi that is even prouder of my Cook Island heritage, traditions and culture.
Just don't do it – A backwards Nike tick wooden gift from a Year 8 student. Humbled to live and breathe my dream job.
Journey Journal – A lover of writing and a believer in loving yourself. My latest thoughts, reflections, and feelings are in this book.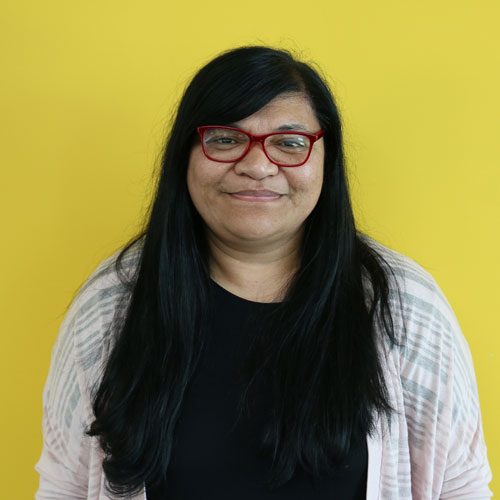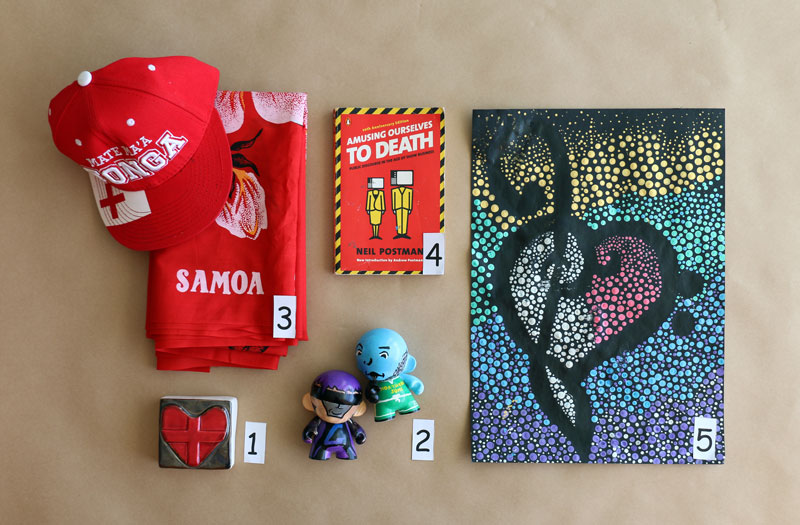 My Christian faith encompasses who I am as a person spiritually, mentally, physically.
My son Tevita and I painted these munny dolls. He has a vivid imagination – a superhero that wants to save the world, I painted the other, of my husband's passion as coach and lover of basketball.
Born in beautiful Aotearoa, raised of Samoan heritage, my husband Isikeli is of Tongan descent.
My first memory of a reader was my first teacher, she ignited in me a desire to explore and experience different ways of seeing the world.
Love of Visual Art & Music of different genres, a passion inside and outside of the classroom.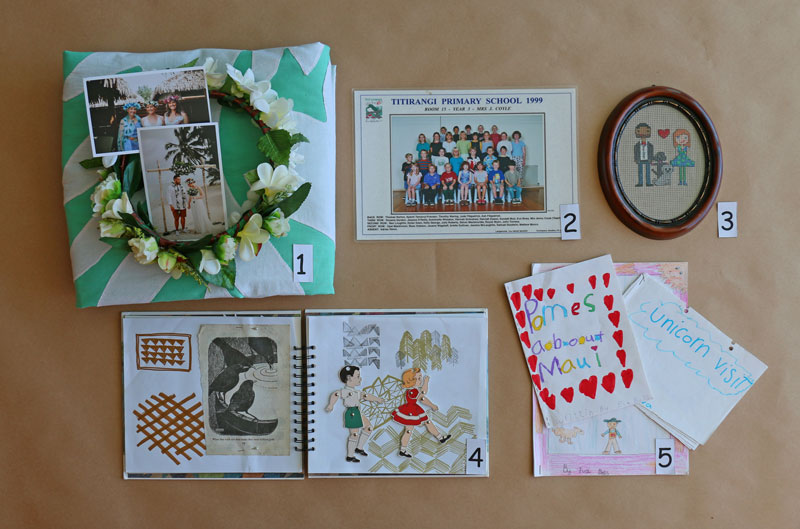 My husband, Campbell, is part Cook Islander and we had our wedding in Rarotonga this year. His Nan made us a beautiful Tivaevae and my ei katu was made by my mother-in-law.
Throwback to 1999! My year 3 Titirangi Primary school photo with my favourite teacher, Mrs Coyle.
My Mum made this crossstitch of my little whānau, featuring Campbell, our two dogs Ellie and Ted and myself.
Before I was a teacher I trained and worked as a graphic designer. I still love to doodle, and this page is from one of my sketchbooks.
When I was in Primary School I always wanted to write and illustrate children's books. I used to spend my time in the weekends and after school writing stories and drawing pictures to match. I still have the goal to one day have a children's book published!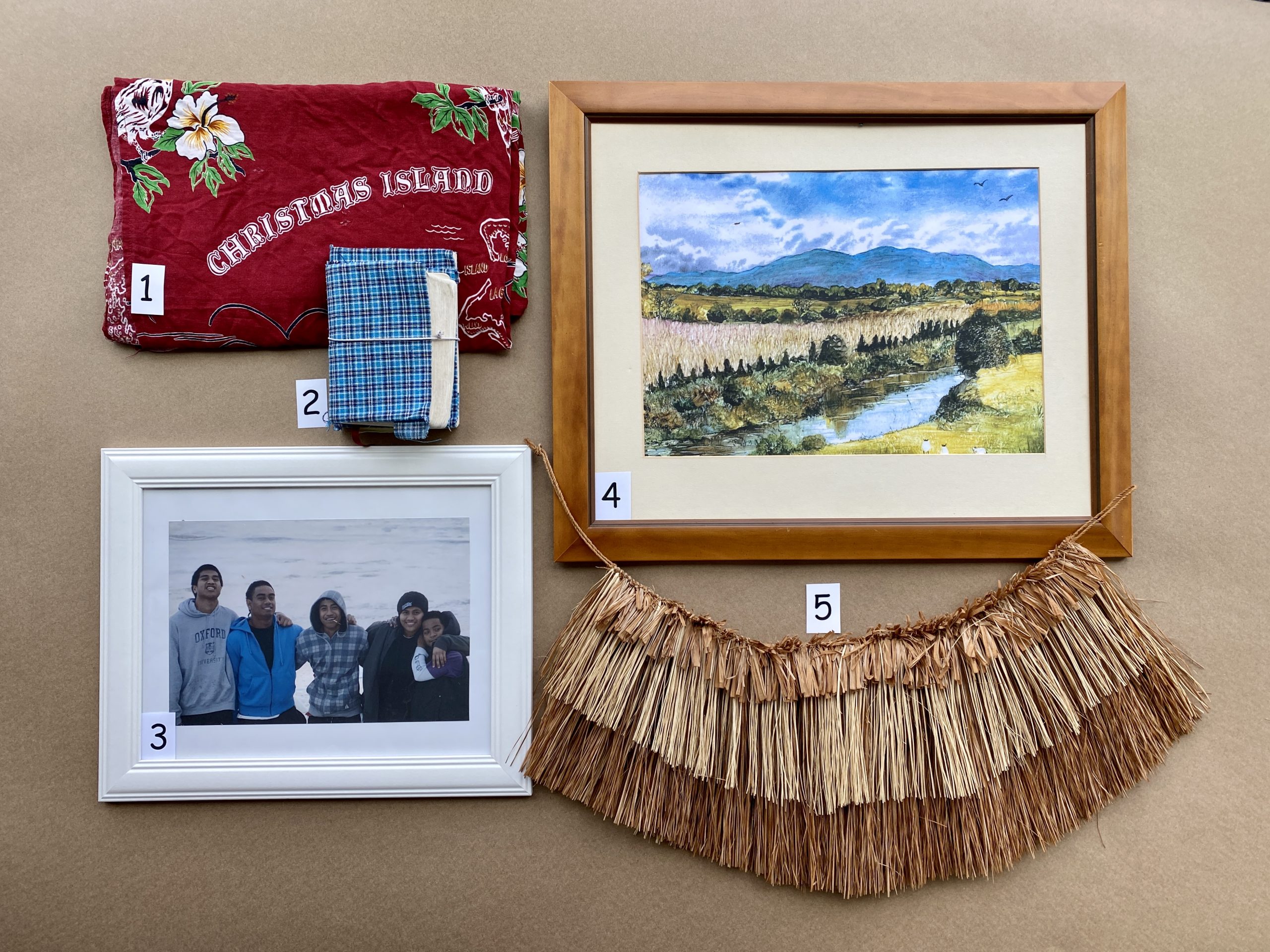 Te Bee - Travelling showed me my roots and just how unique and vast the world is.
Bible and Journal - Jesus – where I searched and found my identity, life, love, purpose, truth and more.
Family Picture - New Zealand became a blessing and a home for my beautiful family, opening doors.
Malvern Hills - My English upbringing was special and foundational to values, lessons and love of life.
Kiribati Grass Skirt - My Kiribati childhood was precious and taught me about humility, hard work and family.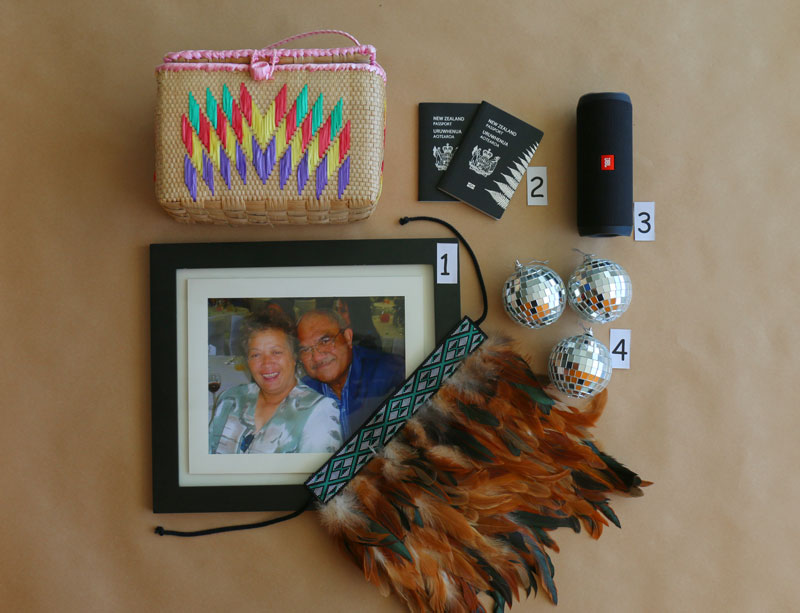 My mum and dad are the center of my whanau. The colorful Island bag represents my Cook Island heritage. My dad comes from the beautiful Island of Mangaia. The Korowai (mini cloak) represents my mum's Maori heritage Tuhoe/Ngati Kahungungu.
I have a passion for traveling with my 6 year old son. We have both traveled to the Cook Islands, around Australia and also within our beautiful country I call home.
Lover of all things music, R'n'B, Hip-Hop, 70's, 80's, 90's and 2000's.
I was born in the disco era of the 70's.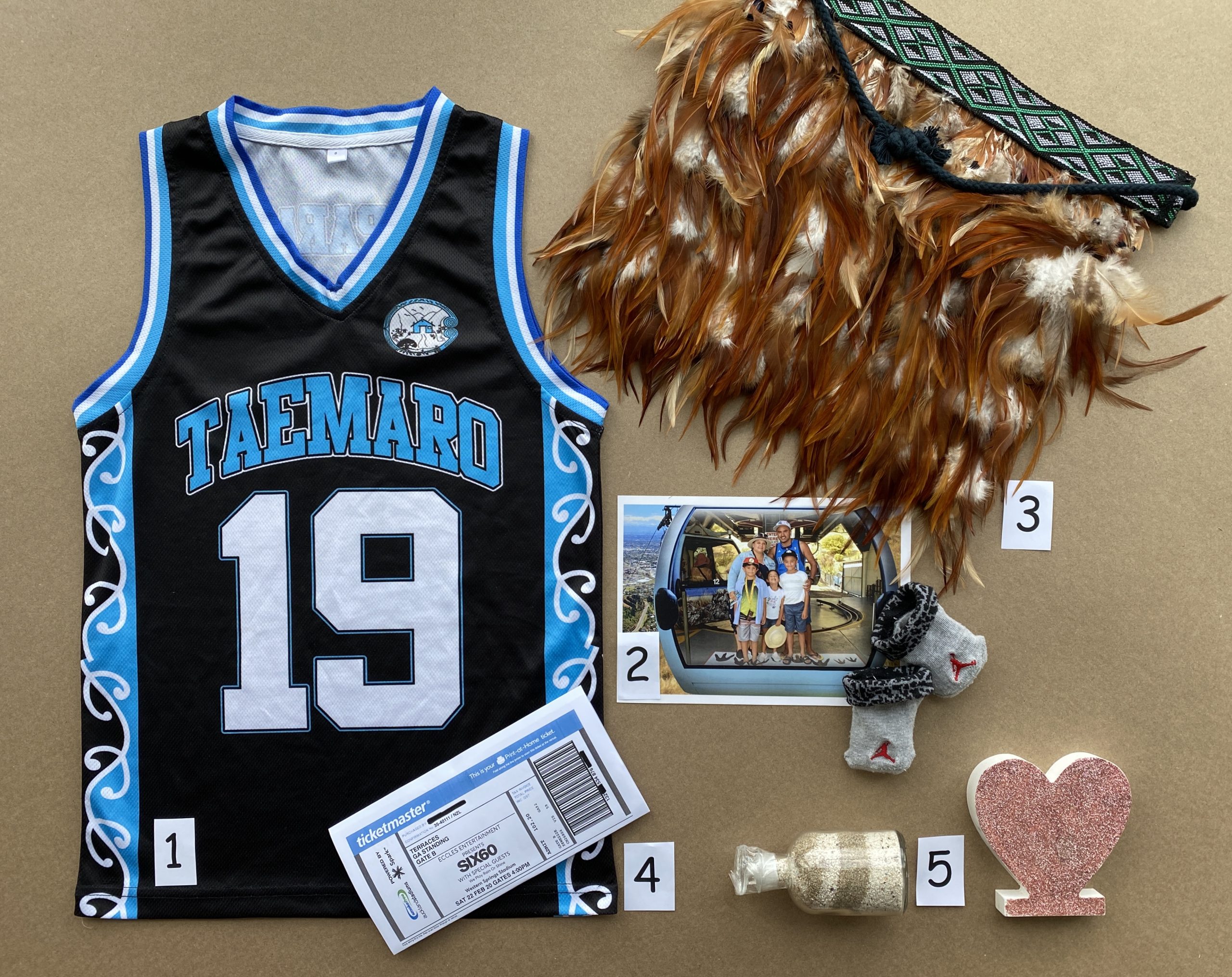 Taemaro is my Marae and tūrangawaewae, my place of standing.  It is a beautiful bay in Northland, Ngāti Kahu.  It holds a very special place in my heart.
My family are my number one.  With my amazing husband, we have three incredible children.  Each have worn these Jordan booties.
Ko au ko te whenua, ko te whenua ko au – I am the land and the land is me.  This kākahu represents my Māori heritage.
Music is a piece of art that goes into the ears straight to the heart.  Even better when it's live music.
Sands from Taemaro (Northland) and Atiu (Cook Islands) mixed at our wedding to represent the coming together of our cultures.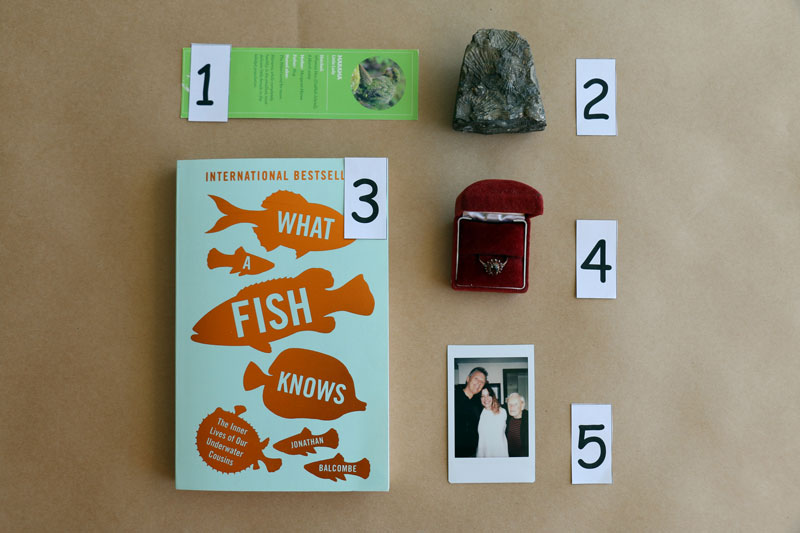 Kākāpō bookmark. New Zealand conservation is another thing that I am really passionate about. I donate regularly to Kākāpō Recovery, and have even adopted a kākāpō! One of the things on my bucket list is to volunteer on Whenua Hou!
Permian Brachiopod Fossil. I am a massive geology fiend! This is a fossil animal from the Permian (298 – 251 million years ago) that was found on a rock hunt in the North Island. I love 'reading the landscape' and understanding how the Earth came to look as it does now, as well as trying to figure out what it would have looked like in the past.
What a fish knows: The lives of our underwater cousins' by Jonathan Balcombe. This is my favorite non-fiction book. I studied Marine Science at University and am passionate about the ocean. I love talking about marine conservation and environmental issues, and can do so for hours! I'm also a massive bookworm in general, and can't go past a good book.
This is my Grandmother's garnet engagement ring. My Poppa got it in a shop in Queen Street, Auckland. I keep this on my dressing table and it reminds me of my family. It also looks pretty amazing on!
This is a polaroid I took of my mum, my pop, and my great-grandmother in our kitchen. Family is really important to me. I don't get to see my grandparents often, so I keep this picture near to remind me of them.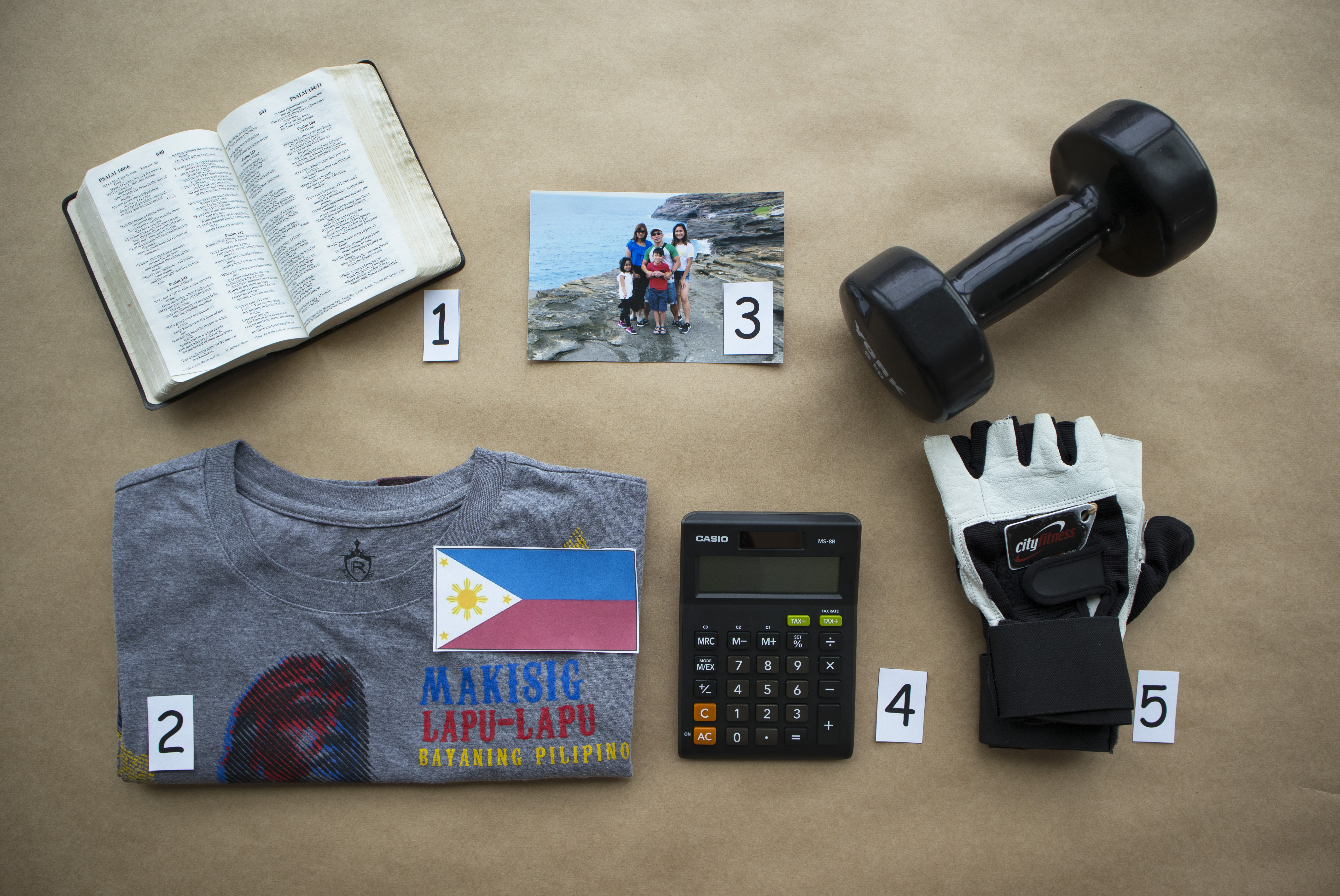 Julian Perla
Finance Manager
Bible. I am blessed with my Christian walk in life – to serve God is to serve others.  That will show my pure love, peace and joy.
T-shirt from the Philippines. I am a Filipino who is really proud of my culture and my country, the Philippines.
Family photo. My family and I lived in Rarotonga, Cook Islands for almost 14 years.  This is considered to be our second home before we moved to New Zealand permanently.
Calculator. Working with numbers is one of my favourite things to do.  I enjoy solving problems and finding solutions.
Weightlifting gloves. I love to exercise and I enjoy going to the gym to get fit. It makes me feel good and I have lots of fun doing it!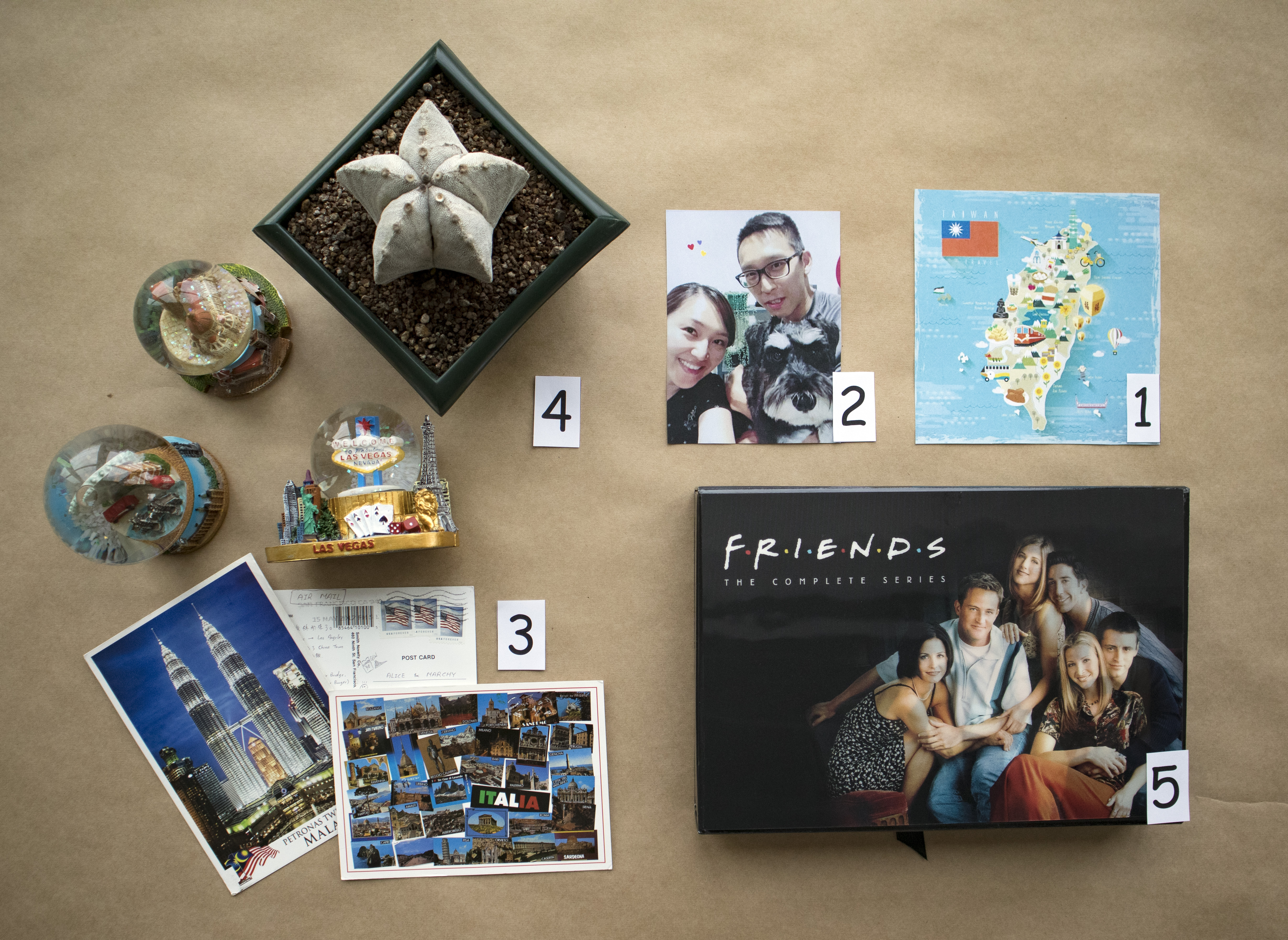 Alice Sen
Office Administrator
I am from Taiwan.  This is where bubble tea and Din Tai Fung originated from. Taiwan is beautiful and very convenient and that's why my parents still live there.
These two are the love of my life – my husband and my fur baby Totoro.
I love travelling.  Everywhere I go, I will send a postcard back to myself and buy a snow globe as a remembrance of the trip.4.
This is my favourite TV show.  I can watch it everyday and still laugh my lungs out.
Cacti is not everyone's cup of tea, but they are low maintenance and when they bloom, they have the most amazing flowers.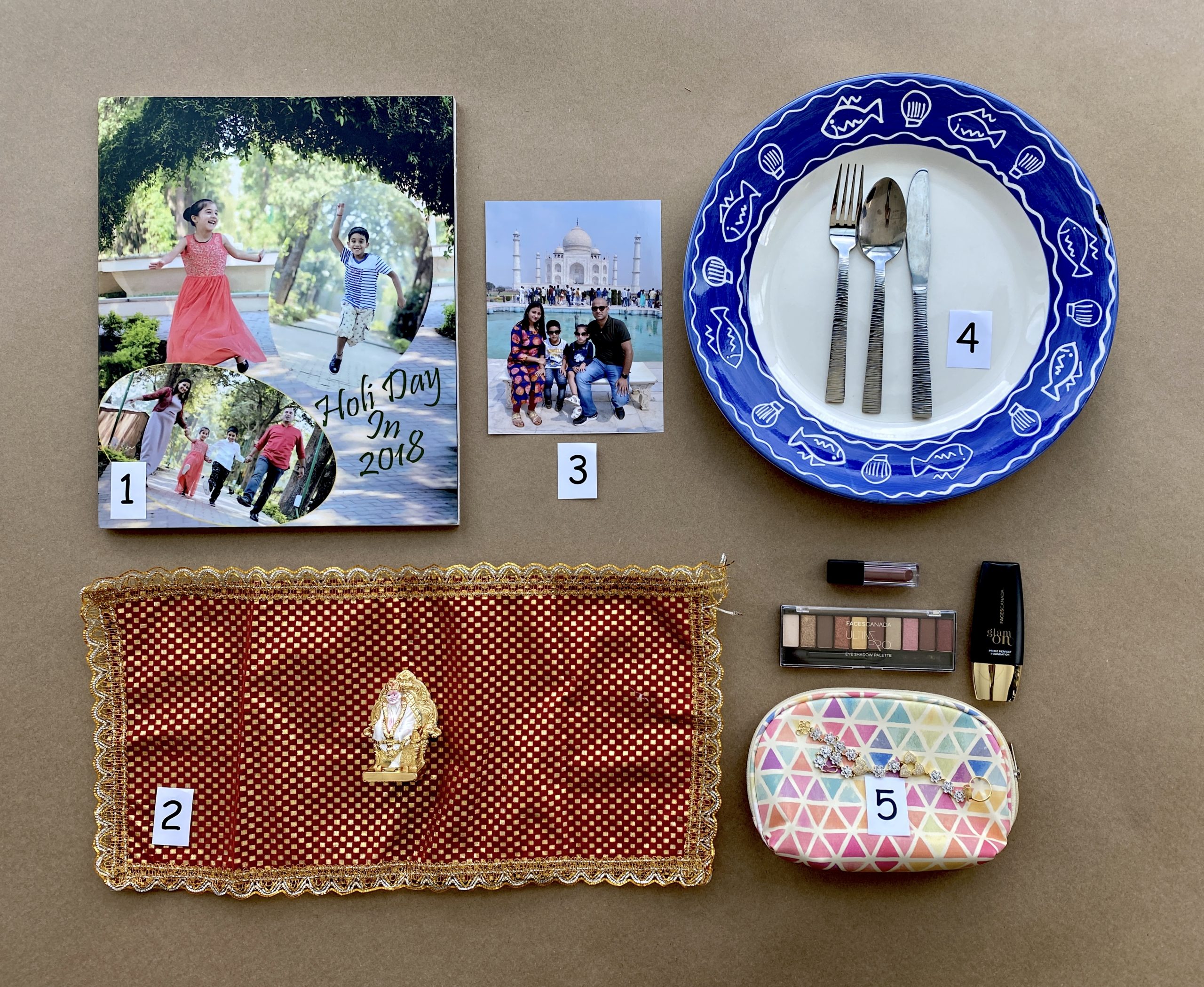 Priya Sood
Inclusive Learning Assistant
Home Decor. I enjoy doing home decoration.  Whenever a festive season arrives, I begin imagining the possibilities.
I trust my Sai Baba.  Whenever I feel demotivated, I read his inspirational stories and quotes to boost myself up and ready to go with the flow.  I am sharing one of my favourite inspiration messages: "Keep faith and patience and your prayers shall be answered".
My greatest treasure is my family.  We may not be perfect, but I love them with all of my heart.
Cooking is my passion.  I love to try new recipes with a pinch of my own experiments.
I love makeup, especially on the eyes.  Eyes speak a person's personality.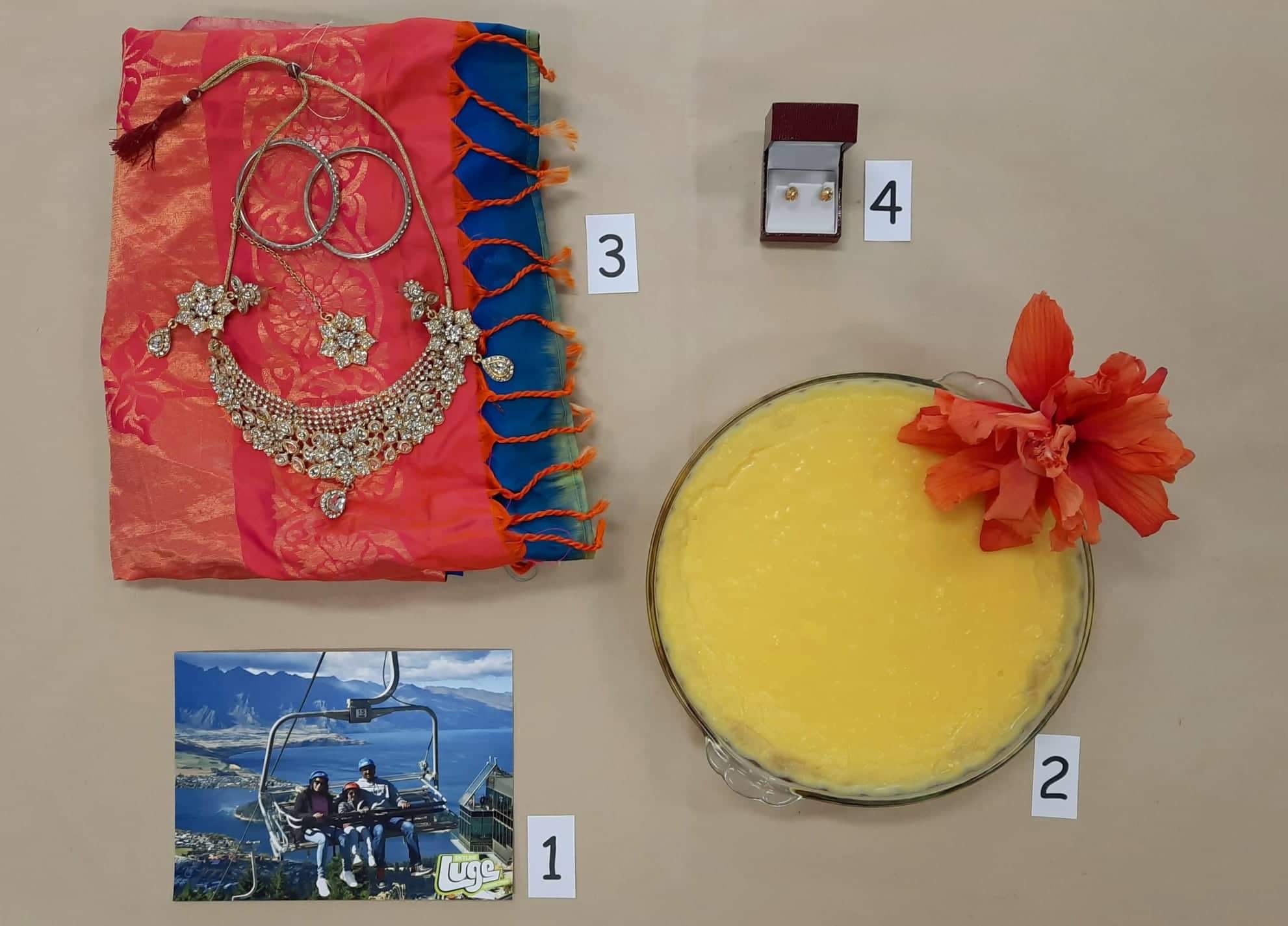 Shasta Singh-Prasad
Kaiako
Photo of my family: 

Family faces are magic mirrors. Looking at people who belong to us, we see the past, present, and future. My family is my strength. This photo was taken in Queenstown, our favourite holiday spot.

Fiji Style custard pie and the hibiscus flower: These remind me of my connection to the country of my birth. 
Traditional outfit: In a world full of trends, sometimes a girl just wants to wear something classy.

A saree is not just a garment. It's a power, an identity, a language that represents my culture. 

Gold pair of earrings: These used to be my paternal grandmother's (aji). I absolutely love wearing them. The happiest childhood memories that were created with her that I still remember and share with my daughter.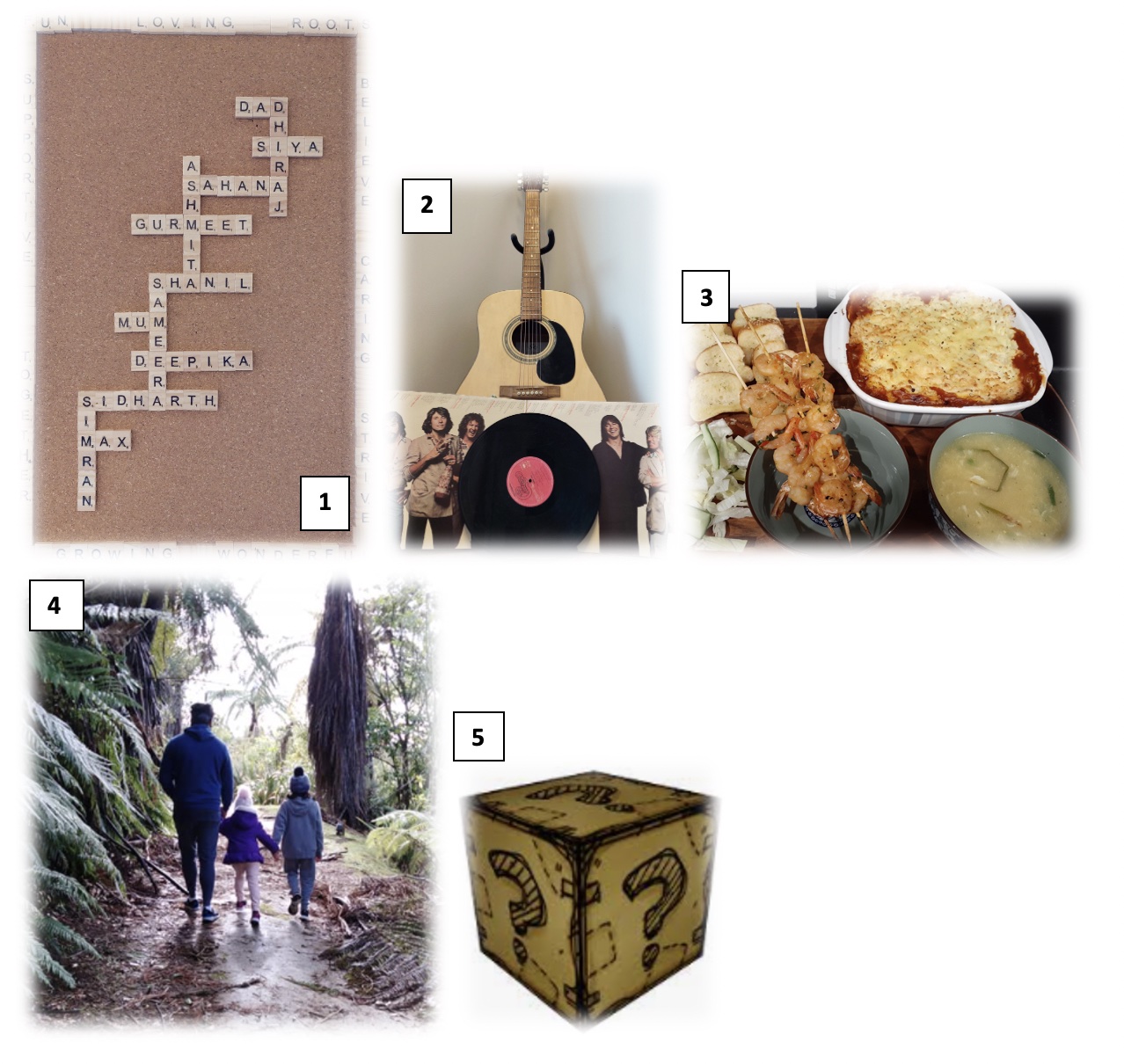 Dhiraj Singh
Inclusive Learning Assistant
Nogu Vuvale (Whānau):

What are we without our loved ones? My family means the world to me, for whom I do what I do and forever be the strength for. As with all, we have our fair share of ups and downs but united we stand stronger. A firm believer of good values and the acceptance to leave the world better for the next generation. The love from my whānau gives me the courage, energy and wisdom to face a new day.

Music tames the savage beast:

Coming from a musical family background, I was introduced to Tabla (Indian drum) at an early age. I performed in concerts and religious gatherings. Later I developed a passion for guitar inspired by The Eagles "Hotel California". No family gathering is complete without Karaoke to out class the original singers (or we think so, LOL). These days, waking up to smooth jazz is great!

Mans best friend = FOOD:

They say necessity is the mother of invention. I give homage to those who have suffered during the early days of my cooking career with a brave face and stomach. Through your endurance and positive critics, I am able to now serve decent food that Gordon R would want to eat in the next 10 years. Rule - never complain about what's on your plate and ensure to finish it. Call now to make the next dinner reservations!

Out and About:

Adventure, mystery, travel, meeting people & fun in the sun is in my Island DNA. The boot of my car is always jammed with travel and picnic gear. There is so much to learn, see and impart to my kids on these trips. I've learnt about survival and safety techniques which has seen me through mountain climbing, hunting and camping. But the best thrill these days is to go fishing on my boat and find that annoying 90cm Snapper. I'm coming for you!

Life's a Mystery:

I believe this with all my heart! That's why I'm leaving this space to welcome whatever life puts in front of me. With a smile on my face, blessings of my forefathers and the spirit to excel, DJ will be on the road to BE better and DO better.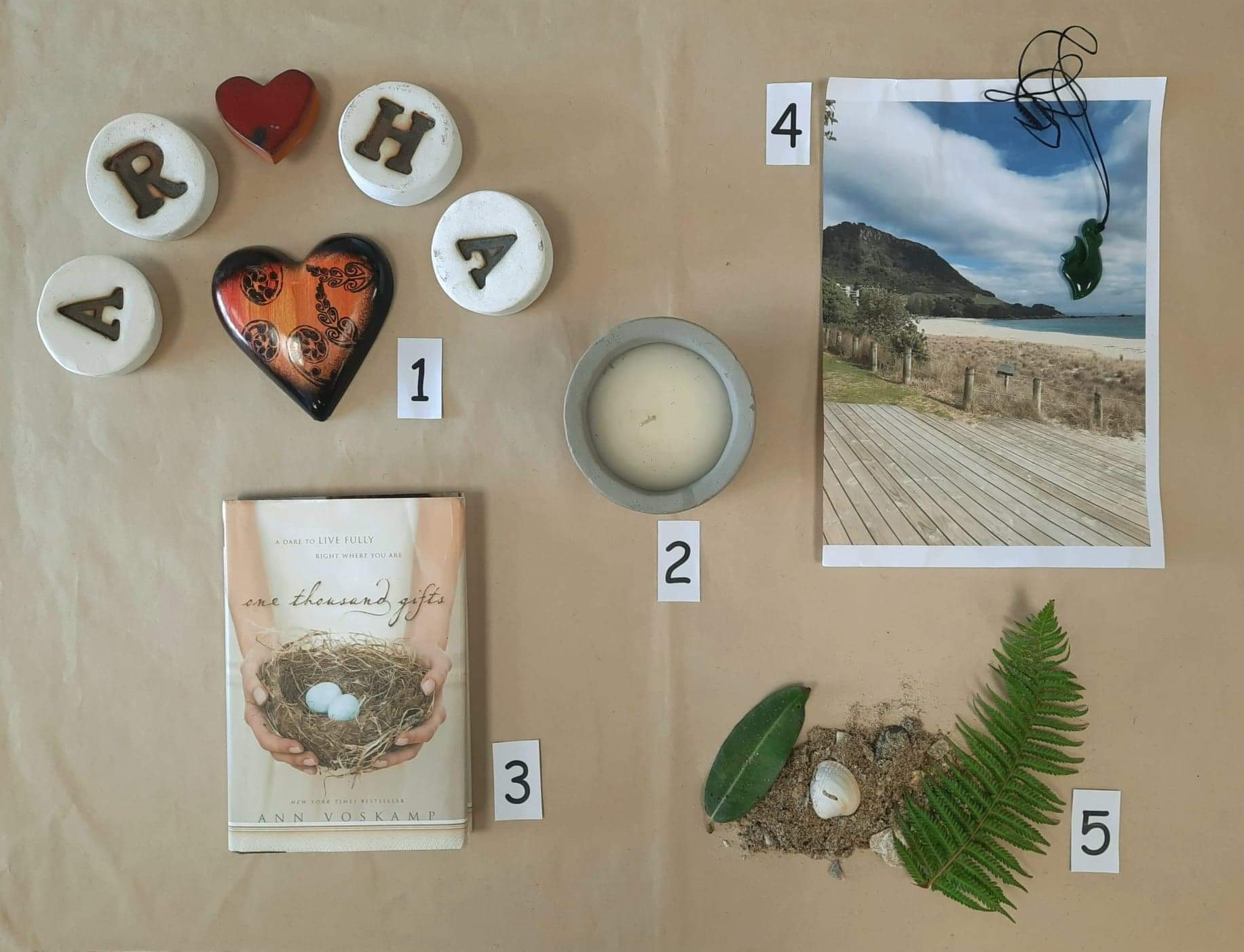 Aroha: A family value my four children and I try to live by.
Candle from a student of mine: reminds me of my passion and love for seeing every child being the best that they can be.
Reading: "You can find magic wherever you look. Sit back and relax, all you need is a book." Dr Seuss
Mount Maunganui: I have always felt a connection here - it is where my Māori heritage is.
Outdoors: there is something about being outside that causes you to be still, breathe and connect.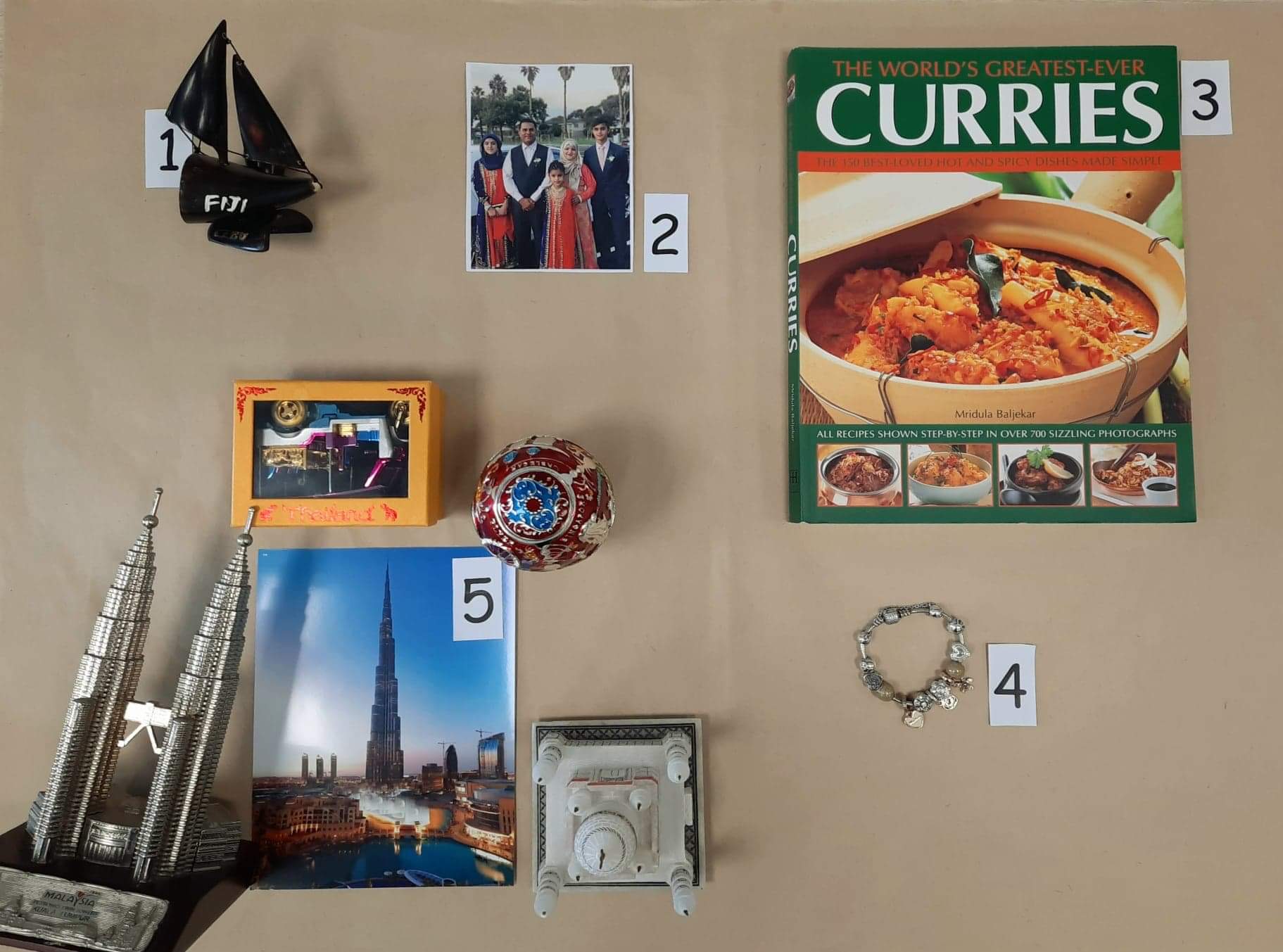 Fijian Canoe Souvenir -

"Stand United, we of Fiji, fame and glory ever"! I may live in New Zealand but my heart and soul always belong to Fiji. 

Family Photo

- I'm very much a family person, and that's always my first priority. My family is my greatest strength.

Cooking

- I love hospitality, and I love cooking especially curries. 

Jewellery

- I love wearing jewellery. For me jewellery is a way of keeping memories alive. 

Travelling

- the memories we make with our family is everything. We always travel together as a family. These are a collection of souvenirs I collected from the countries I have visited.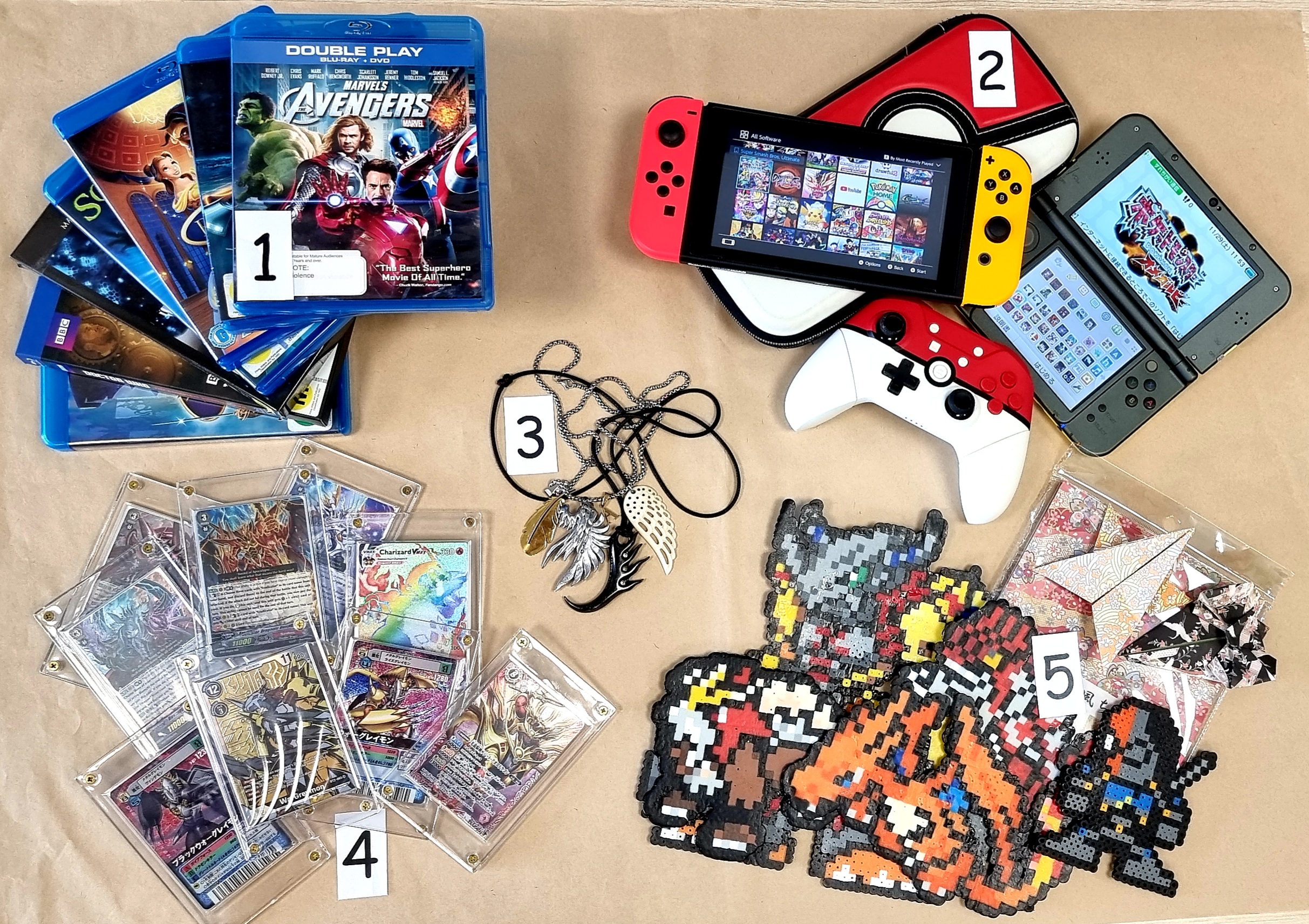 Movies: Some of my favourite shows. My favourite genres are mystery, comedy, fantasy. Here is a mystery for you, what are my favourite colour(s)?
Gaming Consoles: I love playing games, especially the story orientated ones because I get to experience different perspectives and open up to new ideas. I am quite "techie" so this also represents my love for devices & gadgets.
Wing Necklaces: Since childhood, I always liked the idea of how a number of protagonists [TV shows & games] had their own unique necklace/symbol that represents them. That led me to search for my own and I gathered these pieces from different countries I have traveled to: America, Japan, Korea, Hong Kong & Aotearoa.
Pixel Art & Origami: 'Pixel Art Crafting' & 'Origami Making' are new skills I recently learned and it's been fun teaching kids. I also enjoy making and crafting gifts because it is more personalised and I get to show the receiver my thoughts and effort into creating their gift.
Trading Cards: I am a collector for a number of things and my interest started from collecting trading cards when I was a child. I also play a number of board games & card games as it is thrilling to learn new tactics and strategies to solve a challenge.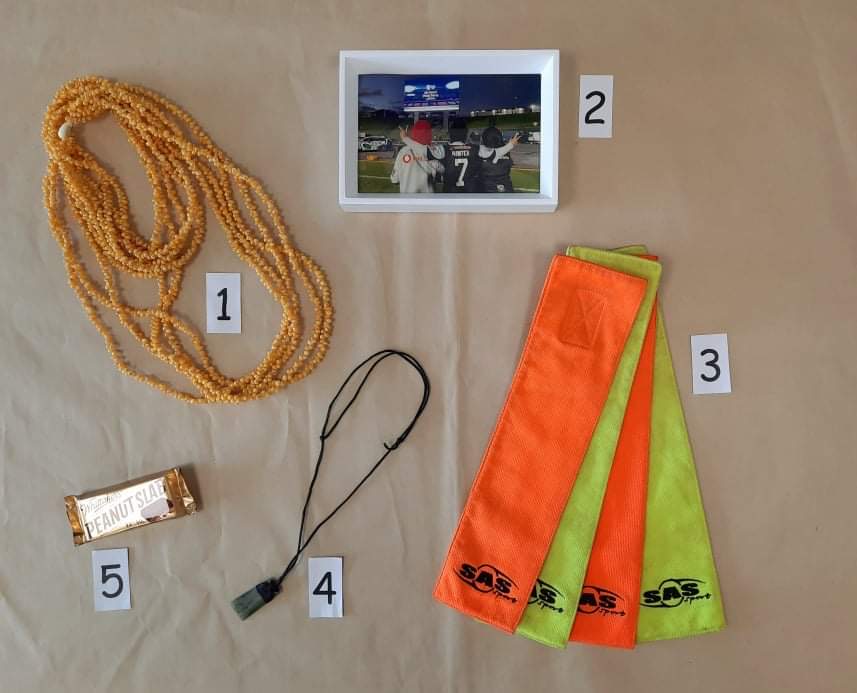 This kahoa hihi that adorned my young mother's neck when migrating from Niue to Aotearoa.
The true faiaoga or kaiako and the catalysts in my life which are my children.
Engaging in sports is one quality that binds us and the main reason why the house is still upright.
Gifted and blessed by my very first class. Thank you for making me look wonderful.
Has stood the test of time - sharing one of the many things I adored as a child with my children.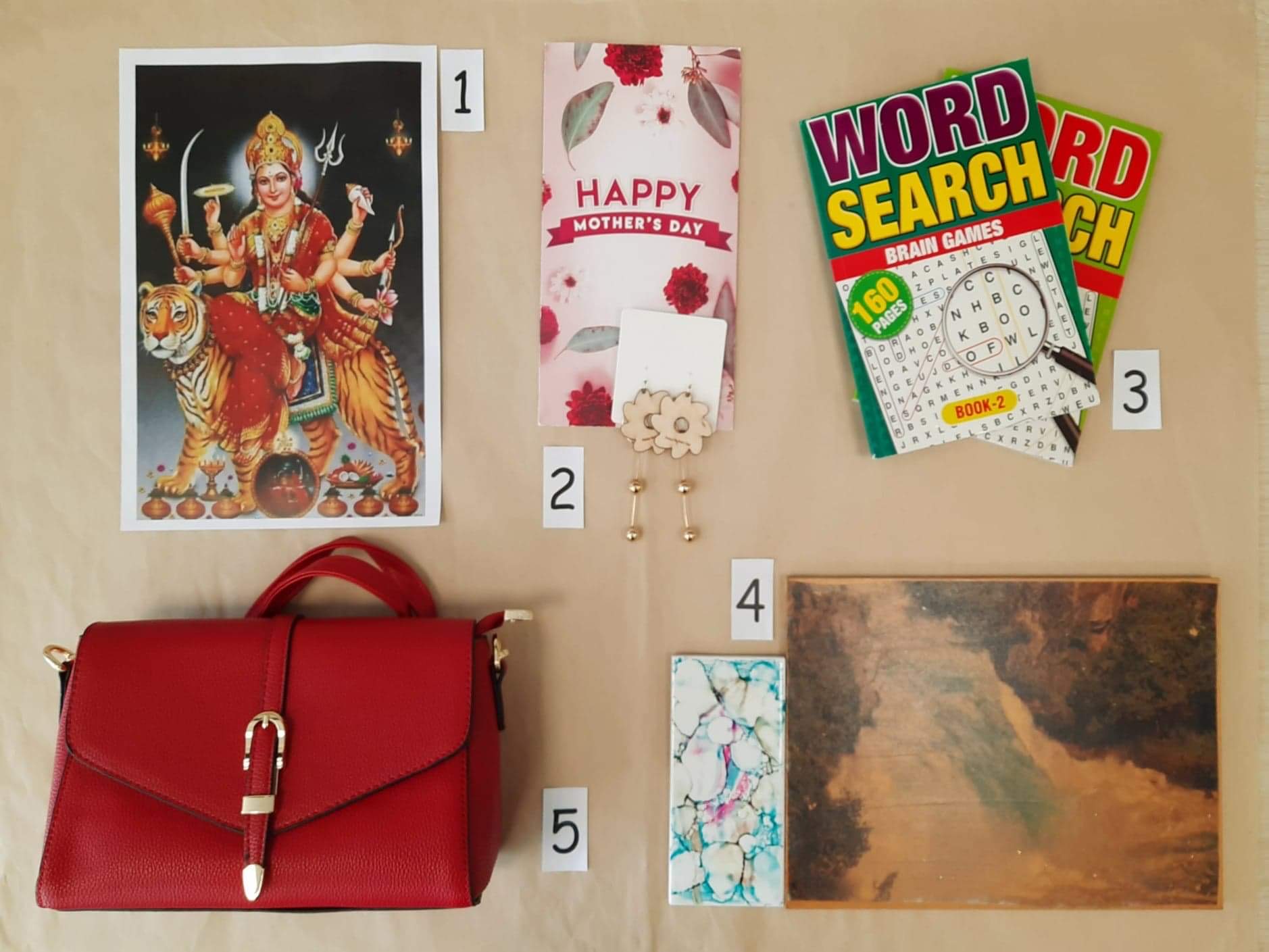 Maa Durga: Born, brought up and married into a culturally rich family, I am the believer and devotee of Maa Durga as it symbolizes the victory of good over evil and spiritually generates enormous positive energy to view the beautiful creations of the world.
Earrings: A beautiful card with a  pair of wooden earrings gifted by my son on Mother's day. He crafted them himself using laser cut method, expressing his love and gratitude towards his parents. "I Love My Family"!!
Word Search Puzzle: My favourite leisure time activity that keeps me awake, alert and fresh. It not only updates my vocabulary and word building skills but also motivates my passion as a teacher.
Art Work: Using basic equipment such as colour pens, markers and a paper scenery on a plain white ceramic tile and a plain wooden polished board to create attractive and long lasting designs.
Bags and Clutches: I am fond of bags and clutches of varied shapes, enchanting colours and variable sizes -  different for different instances.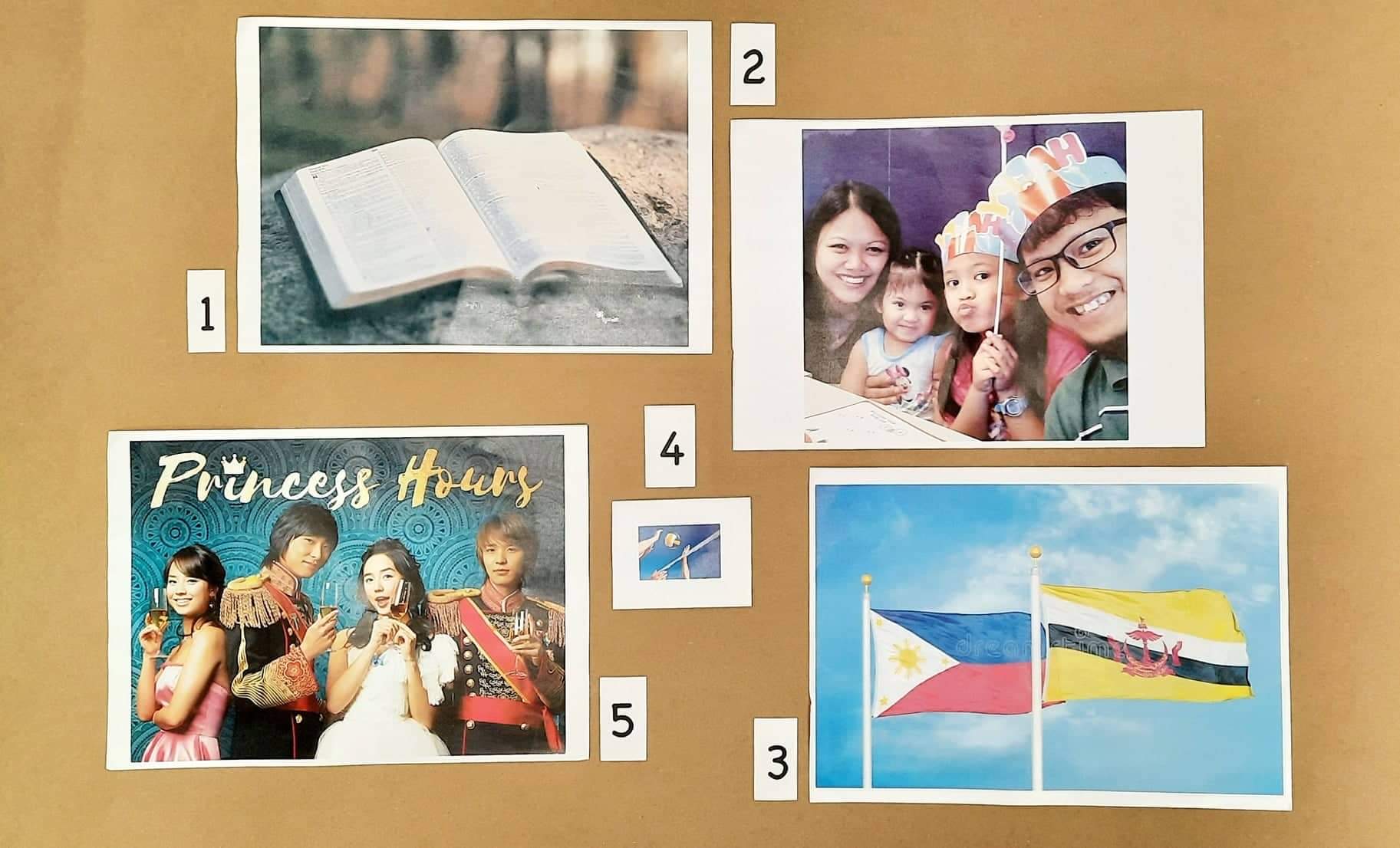 Malou Asas
Inclusive Learning Assistant
My bible – I am blessed with my Christian faith and my identity is found in Jesus, faith, hope and love.
Family photo - I love being a wife and a mother to my two beautiful daughters. They are my greatest blessing from God.
Philippines and Brunei - I was born in the Philippines but lived in Brunei (my second home) for 19 years. "Saya rindu makan nasi katok, roti kosong dengan curry ayam".
Volleyball - My favourite sport and I joined every volleyball tournament when I was still in school.
Korean dramas – I love watching Korean dramas. Some of my favourite dramas are "Princess Hours", "The Heirs", "Descendants of the Sun" and "Saranghae".